How to Wear Joggers for Men: A Must-Read Guide for Every Guy
Jogger pants
, often called joggers or sweatpants, are an essential part of contemporary fashion. Apart from being exceptionally comfortable, they allow you to create different jogger outfits for guys who want to embrace an authentic
urban look
suitable for fall and winter.
Joggers are available in different colors, including both neutral and vivid tones. They are very easy-to-combine, and you can wear them anytime you want to achieve a stylish yet cozy look. These stunners fit virtually any guy's wardrobe, and their versatility allows an array of unique and different styles.
If you plan on buying a new pair of joggers and you're not sure how to style them, you're in the right place. Let's take a closer look at the best ways of wearing sweatpants.
Joggers are initially made for exercise. They are lightweight and comfortable, which makes them suitable for any kind of sports and physical activity. Still, the modern tendencies toward athleisure and sports luxe have made joggers a wardrobe staple that shouldn't be missed.
When styled correctly, this cool and contemporary item can create many jogger outfits guys can wear whenever they need an extra dose of trendiness and comfort.
Most Popular Joggers Style and Types
There are many different types of joggers for men, and they include the following:
Although they are considered casual and inconvenient for any dressy event, joggers have evolved significantly. That said, you can find so-called smart joggers you can wear even when you need an extra dose of elegance without feeling discomfort.
Smart joggers are well-tailored and made from breathable cotton that won't sag at the knees. You can wear them with a shirt and smart shoes to complete your look.
Joggers have escaped from their original baggy and billowy style. They have shaped up, slimmed down while retaining the same level of comfort they had before. Such a change didn't affect their original purpose, but it has upgraded it – you can still wear joggers when hitting the gym and feel elevated freedom of movement.
Joggers are perfect for everyday demands – brunches, running errands, or meeting friends. You can find a pair so versatile that you can wear it virtually every day and use it to create a perfect jogger outfit men find exceptionally comfortable and trendy.
If you love lounging around on lazy Sundays, you'll love this type of jogger pants. They are created explicitly for sofas and binging TV shows – lounge joggers have a loose cut, they are incredibly comfortable, airy, and cozy.
7Diamonds: A Contemporary Jogger Fashion
To create an ultra-modern outfit inspired by the latest fashion trends, you need the best pair of joggers made from the highest-quality materials. Jogger pants from 7Diamonds have all the mindfully created features that contribute to their overall style and contemporary spirit. They are available in six earthy-toned colors that allow various outfits and styles that won't go unnoticed –
navy
,
olive
,
black
,
charcoal
,
ecru
, and
stone blue
.
The Infinity® Jogger ($125)
The Infinity® Jogger
is a new addition to the
7D collection
, and it's there for a reason. It represents an amalgam of contemporary style and fashion, allowing a seamless athletic movement needed for every sports activity, regardless of its intensity level.
Apart from being exceptionally convenient for sports, these joggers meet the standards of ultra-modern athleisure style and casual occasions where you simply want to lounge around. They will provide you with all the freedom you need to crush your day.
Let's see what makes 7Diamonds joggers the best solution for an urban guy:
Hidden Pockets – Keep Your Belongings Safe Wherever you Are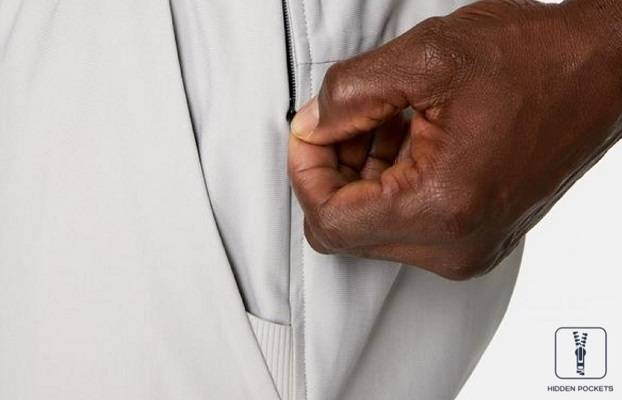 Thanks to the hidden pockets secured with a zipper, you can feel safe for your belongings. Since they are well-hidden, they won't spoil the overall jogger concept but make them more versatile and easy-to-combine.
Whether you go for a run or a golf course, you can relax, knowing that your essential stuff is right by your side.
Linear Flex® Technology – A New Comfort Dimension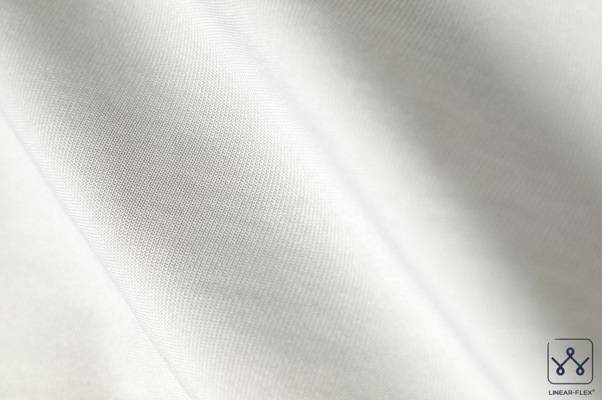 It took us a lot of effort to develop an innovative Linear Flex® Technology, which delivers the most durable comfort and wearable fabrics you can rarely see elsewhere. We have used the most advanced styling techniques to create the material that ensures an excellent fit, exceptional comfort, shape retention, and just the right amount of stretch suitable for even high-intensity activities.
Thanks to the sleek yet durable fabrics, you can create many joggers outfits men often find superior and incredibly comfortable.
Shape Retention – Extreme Durability that Lasts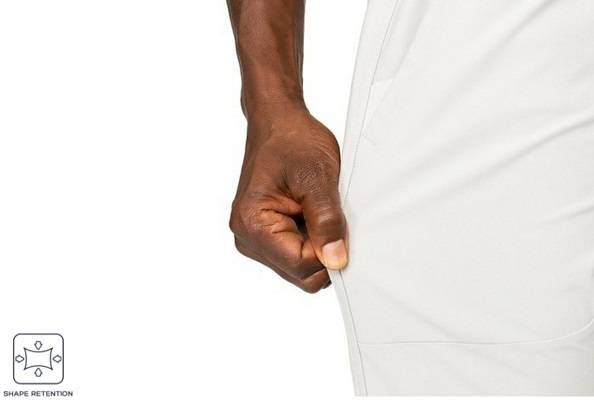 Whether you wear joggers for sports activities or lounging around, you can be sure that their shape will remain the same, even after some time. Thanks to the advanced tailoring technologies, these Infinity® sweatpants will retain their durability after multiple wearing, cleaning, or washing.
You will notice that these joggers can resist even the most intensive movement without getting loose or changing their original shape.
4-Way Stretch – Take Your Active Lifestyle to the Next Level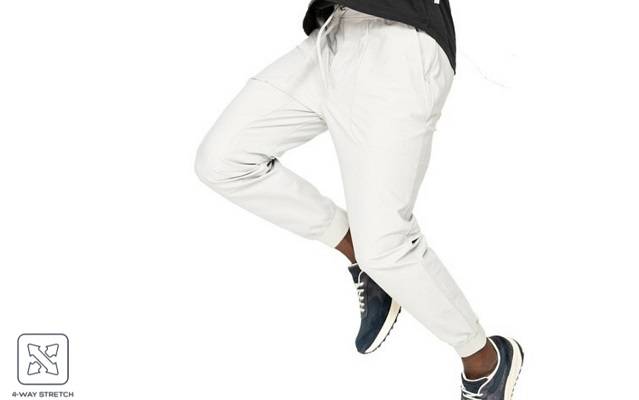 Our Infinity® jogger pants are created with the right mixture of comfort and style. We use a great 4-way stretch material that stretches in both directions, crosswise and lengthwise, allowing a more seamless movement.
Other advantages of 4-way stretch fabrics are enhanced breathability and comfort that goes beyond the ordinary. Therefore, they are perfect for running, jumping, or hiking.
Moisture-Wicking – Stay Cool and Fresh
An exquisite moisture-wicking technology makes sure you stay fresh and cool even after you've spent a hectic day. This fantastic feature will keep you dry even during the highest temperatures, but it will also protect you from excess rain or accidental spills that happen all the time.
Infinity® joggers will boost your comfort during all the day-to-day activities, making sure nothing stays on your way, even a single drop of sweat!
5 Best Joggers Outfit Ideas for Guys
As joggers are becoming more and more popular among guys, they want to know more about the best ways of styling them. Since they are quite versatile, you can wear them in many different ways, depending on the occasion and the look you want to achieve.
If you are wondering What to wear with joggers for men, let's see the 5 most stylish options:
Joggers are an essential part of street fashion, which is why you can always consider them for streetwear-inspired outfits. It's vital to keep it simple – wear joggers with different types of jackets (work, waterproof, or bomber) and sport a great pair of sneakers.
That way, you'll achieve a simple yet effective look.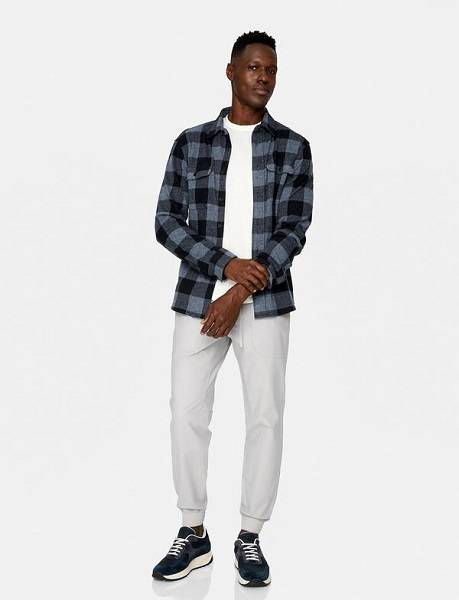 Embracing a smart casual style with joggers is a must these days, although such an idea used to be considered a sin. Wear joggers with a crew neck sweater or a button-down shirt, and feel free to stick with jersey fabrics if you want a less casual style than you'd get with a T-shirt.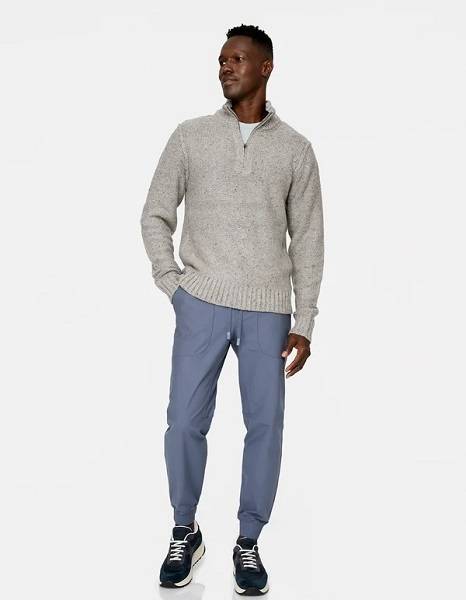 You can consider joggers whenever you want to wear something casual and relaxed. Whether you're gathering with your buddies for a game or movie night or going for a walk, a pair of joggers and a hoodie are never a bad outfit option.
Add a denim or a bomber jacket if you need an extra layer, and be sure that you'll receive an equal dose of comfort and style.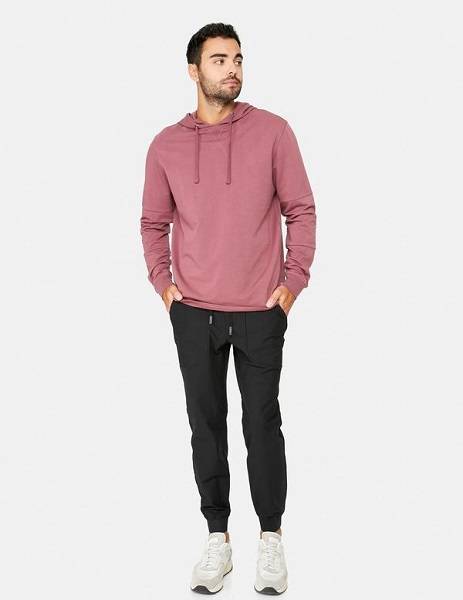 With joggers, you can consider both sport-inspired and relaxed styling. Pair them a bomber jacket, sports jacket, a hoodie, a hat, and an exceptional pair of sneakers, and get inspired to run one mile more.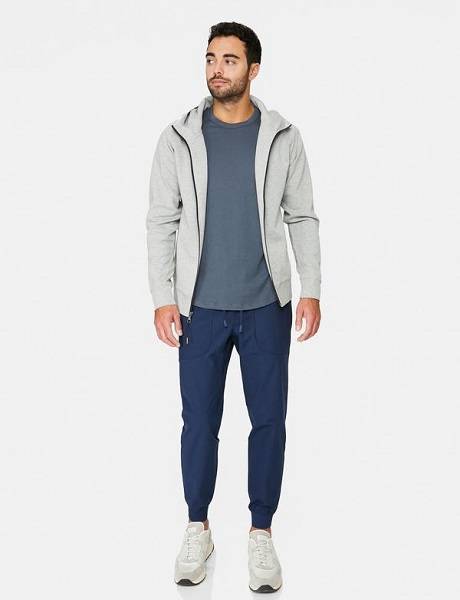 The current situation provoked by the pandemic has made us stay at home, watch Netflix, and eat all the junk food we have. And to spend the quarantine days with the highest level of comfort (some of us had to work from home, too), we had to think about cozy and comfy outfits. One such example includes joggers and tees.
Styling joggers and a tee is an excellent option for home settings and an array of casual everyday occasions.
What to Wear with Joggers for Guys: More Useful Ideas
The truth is that you have thousands of opportunities for styling your joggers. Just in case you run out of useful ideas, here is what you can consider:
• Wear joggers with a
blazer
for a polished yet relaxed look.
• Style joggers with a
polo shirt
• Mix up your look with multiple layering options
• Wear slim fit joggers for a more sophisticated look
• If you decide to pair joggers with a jacket, go for shorter models (bomber, denim, or biker jacket)
• Have an excellent pair of trainers as your go-to footwear when you're wearing joggers.